Cloth Trackers & Guidance Systems
AJM / Polyfilters engineer cost effective quality Cloth Trackers / Web Guidance Systems to any specification such as the pinch roll cloth tracker. Trackers can also be supplied with sensitive switch or air jet sensing systems, follow the link below to order or learn more.
Tracker Replacement Parts
AJM Polyfilters now has a range of directly interchangeable replacements and now has the ability to supply both complete units and spare parts for tracker systems including most Foxwell Designs.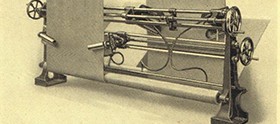 History of Foxwell Engineering
Foxwell Engineering dates back to the mid 1800's and founder Daniel Foxwell, read more about the long history of the engineering company Foxwell Engineering.