History of Foxwell Engineering
Foreword
ALTHOUGH our records show that the business of Textile Engineering was carried on by the founder, Daniel Foxwell, as far back as I843. it is only since our well-known Guiders were perfected and marketed that the present activities of the firm can be said to have been carried on.
Prior to that date. there had been many attempts to make Machines for guiding fabrics, most of them being of a very crude nature. Although the success of the "Foxwell" Guider was due primarily to the unique principle on which it functions, this in itself would not have been possible unless
the machines had been designed and built with the accuracy equal to that of the work which they are called upon to perform. It is this High Quality of Workmanship which is inherent in all our products that is responsible for the firm's continued success and enviable reputation throughout the Textile World.
From those early days, when we made Guiders only, it was a very short step to the manufacture of High Speed Machines, in which the Guider was an integral part, always with One Idea. that if it were made by us. it had to be the "Best of its Kind."
The High Standard which we have set ourselves is serving us in very good stead to-day, owing to the exacting control which has to be maintained over Modern Textile Fabrics in their various processes from Loom to Counter.
Our considerable experience will still be available to clients in designing and developing machines to their own ideas, in the future, as it has been in the past.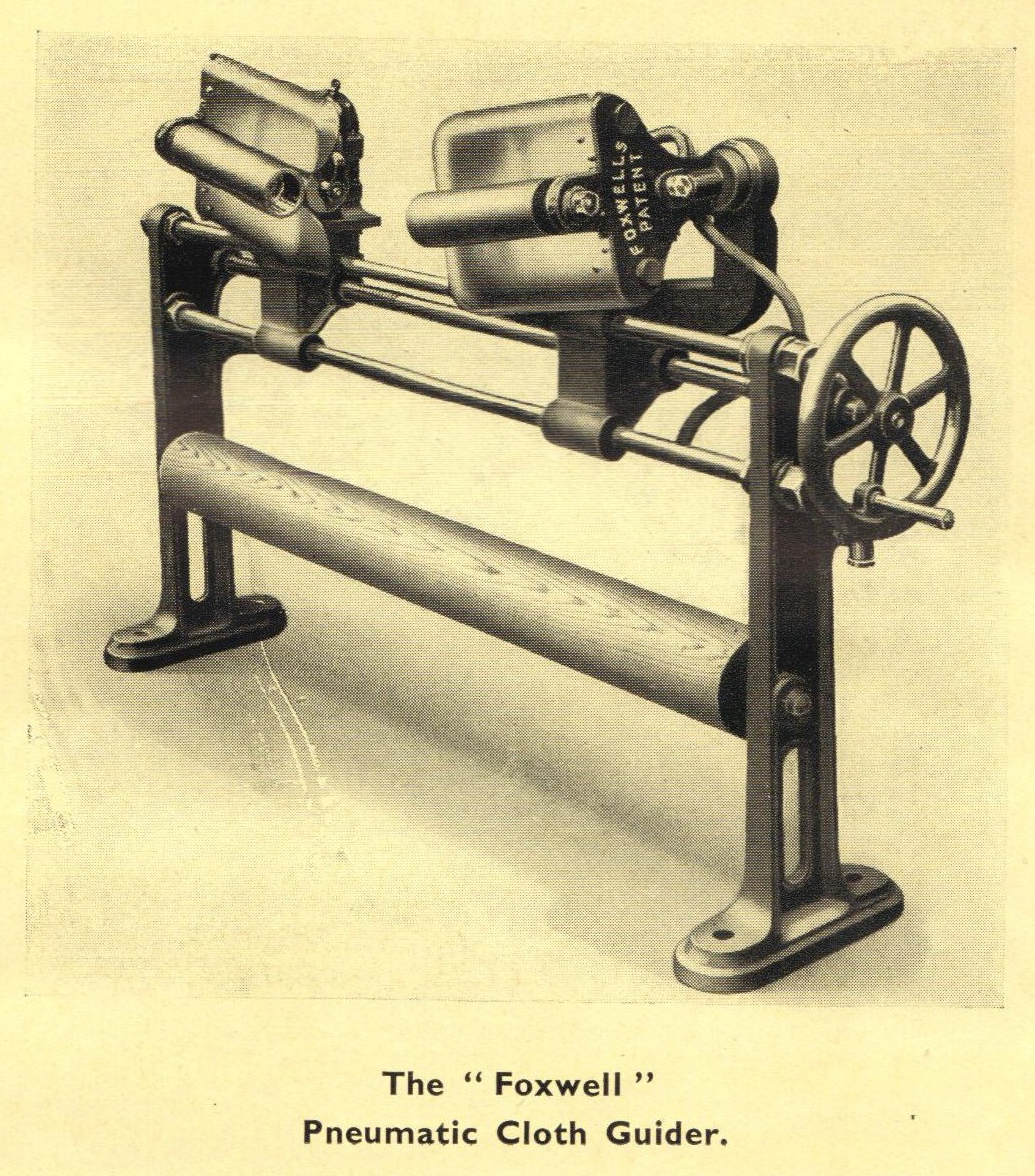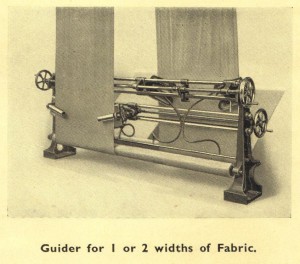 The "FOXWELL"
PNEUMATIC CLOTH GUIDER
FOR Guiding All Types of Fabrics in the open width, on to any Machines.
The Pneumatic Principle ensures rapid action with the greatest sensitivity, which
are the main essentials for accurate Guiding. It is on account of its Extreme Simplicity that this Machine is so reliable and Free from Breakdown. I
Works at Any Cloth Speed.
Replaces Hand Labour for Guiding.
Removes Curls and Creases from the Fabric.
Machines can be supplied to guide one or more widths at one time, side by side, or one above another.